Broccoli Quiche in Colorful Peppers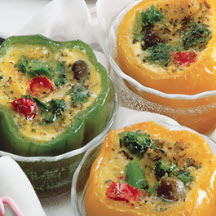 Recipe courtesy of The Incredible Edible Egg™.
Recipe Ingredients:
4 medium red, yellow or green bell peppers (4-ounces each)
1 cup frozen broccoli florets, defrosted
4 large eggs
1/2 cup milk
1/2 teaspoon garlic powder
1/4 teaspoon dried Italian seasoning
Cooking Directions:
Preheat oven to 325°F (160°C).
Cut about 1/2 inch off tops of peppers; remove seeds. Place peppers upright in custard cups; place cups in baking pan.
Spoon 1/4 cup broccoli into each pepper.
Beat eggs, milk, garlic powder and Italian seasoning in medium bowl until blended. Pour evenly over broccoli.
Bake in center of oven until knife inserted near center comes out clean, 60 to 70 minutes. Let stand 5 minutes.
Makes 4 servings.
No-Mess Pouring: To make filling the peppers easier, beat the egg mixture in bowl with a pouring lip or in large glass measure.
How to Tell If It's Done: Baked custards should be removed from the oven before the center is completely set. The center will jiggle slightly when dish is gently shaken. Custard will continue to cook after it's removed and center will firm up quickly. Over-baked custard may curdle. The knife test: Insert knife near the center. If knife is clean when pulled out, the custard is done. If any custard clings to the blade, bake a few minutes longer and test again.
Nutritional Information Per Serving (1/4 of recipe): Calories: 132; Total Fat: 6g; Saturated Fat: 2g; Cholesterol: 214mg; Total Carbs: 10g; Fiber: 3g; Protein: 9g; Sodium: 93mg.
Recipe and photograph courtesy of The Incredible Edible Egg™.