Easy Broccoli Custard Bake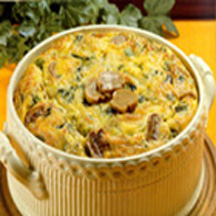 This simple broccoli, Swiss cheese and mushroom custard casserole is perfect for brunch buffets or as a meatless entrée for supper.
Recipe Ingredients:
1 (10-ounce) package frozen chopped broccoli, thawed and drained
1 (4-ounce) can sliced mushrooms, drained
1 (4-ounce) cup shredded Swiss cheese
6 large eggs
1/2 cup milk
1/2 cup bottled ranch dressing
3 tablespoons all-purpose flour
Cooking Directions:
In lightly greased 1 1/2-quart casserole, gently toss together broccoli, mushrooms, and cheese.
Beat together eggs, milk, dressing, and flour until thoroughly blended. Pour over vegetables and cheese.
Bake in preheated 350ºF (175ºC) oven until knife inserted near center comes out clean, about 40 minutes. Let stand 5 minutes before serving.
Makes 6 servings.
Recipe and photograph provided courtesy of the American Egg Board.