Harvest Frittata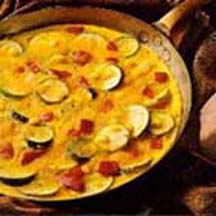 Whether served for breakfast, lunch or supper, the frittata (an open-faced Italian version of an omelet) makes a wholesome meal that is quick and easy to prepare. This version features a bounty of garden goodness with slices of fresh zucchini, corn and sweet red pepper.
Recipe Ingredients:
1 1/2 cups sliced zucchini
1 cup fresh corn kernels, or 1 (8-ounce) can whole kernel corn, well-drained
1/2 cup chopped sweet red peppers
1/4 cup chopped onion
1/4 teaspoon oregano leaves, crushed
1 tablespoon water
4 large eggs
1/4 cup milk
1/4 cup shredded cheddar cheese
Cooking Directions:
In 10-inch non-stick skillet, combine vegetables, oregano and water. Cover and cook over medium heat, stirring occasionally, until crisp-tender.
Thoroughly blend eggs and milk. Pour over vegetables. Cook over low heat until eggs are almost set. Sprinkle with cheese. Broil about 6 inches from heat until cheese is melted.
Cut into wedges and serve from pan or slide from pan onto serving platter.
Makes 2 to 4 servings.
Recipe and photograph provided courtesy of the American Egg Board.