Italian Vegetable Custard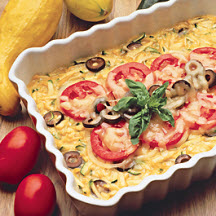 Recipe courtesy of The Incredible Edible Egg™.
Recipe Ingredients:
4 large eggs
1/2 cup all-purpose flour
2 cups coarsely shredded yellow summer squash
1 cup coarsely shredded zucchini
1 (2.25-ounce) can sliced ripe olives, drained - divided use
2 tablespoons freshly grated Parmesan cheese
1 teaspoon dried basil leaves
1/2 teaspoon garlic salt
6 very thin tomato slices
1 small onion, thinly sliced, separated into rings
1/2 cup shredded Monterey Jack cheese (2 ounces)
Cooking Directions:
Preheat oven to 450°F (230°C).
Beat eggs and flour in medium bowl until smooth. Add yellow squash, zucchini and 1/4 cup olives; mix well. Spread in greased 8-inch square baking pan.
Bake in center of 450°F (230°C) oven just until custard is set, about 10 minutes.
Mix Parmesan cheese, basil and garlic salt; sprinkle over custard. Top evenly with tomato, remaining olives, onion and Jack cheese.
Bake until cheese is melted, about 4 minutes.
Makes 4 servings.
Lighter Option - Recipe can be made with reduced-fat cheese, if desired.
Nutritional Information Per Serving (1/4 of recipe): Calories: 186; Total Fat: 8g; Saturated Fat: 2g; Cholesterol: 214mg; Total Carbs: 19g; Fiber: 3g; Protein: 11g; Sodium: 338mg.
Recipe and photograph courtesy of The Incredible Edible Egg™.