Mushroom Wellington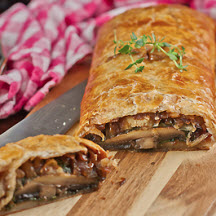 Looking for a festive vegetarian dish for the holidays? Look no further than this delicious recipe courtesy of the Mushroom Council.
Recipe Ingredients:
6 portabella mushrooms, stalks trimmed and cleaned
3 onions, peeled and chopped
2 tablespoons olive oil
2 tablespoons butter
3.5 ounces baby spinach
4 sprigs thyme
1 sheet frozen puff pastry, partially thawed
1 large egg, beaten
1 tablespoon Dijon mustard
Salt and ground black pepper to taste
Cooking Directions:
Preheat the oven to 400°F (205°C).
Place a large frying pan over medium heat and add the olive oil. When the pan has come up to heat add the onion and reduce heat to low. Season with salt and ground black pepper and cook for 15 to 20 minutes, stirring occasionally. When caramelized, remove the onions from the pan and set aside.
Return the pan to the heat and add the baby spinach and cook until wilted. Remove the baby spinach from the pan and set aside.
Return the pan to the heat again and increase heat to medium. Add the butter and when the butter has melted and started to froth add the mushrooms, top side down, season with salt and ground black pepper, and cook for 5 minutes or until golden, before turning over. Once both sides have been browned remove from the heat and brush both sides of the mushrooms with the Dijon mustard.
Place a sheet of baking paper on the baking tray and then place the puff pastry sheet on top. Spread the caramelized onions over the middle third of the pastry, making sure to leave 1-inch at the edges. Top with half the baby spinach and then the mushrooms. Top the mushrooms with the remaining baby spinach.
Very carefully roll the pastry over the top of the mushroom mixture until you have a log. Tuck the edges under the pastry, ensuring the seam is facing the bottom.
Cut 2 holes in the middle of the pastry to allow steam to escape and very lightly coat with the egg wash. Then place the pastry in the freezer for 10 minutes before repeating with another layer of egg wash and freezing the pastry for 10 minutes.
Place the pastry back on the baking sheet and tray and place in the oven for 30 to 35 minutes, or until golden.

Makes 4 servings.
Recipe and photograph courtesy of the Mushroom Council.