Pepato Cheese and Artichoke Bake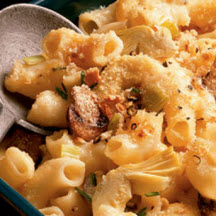 Extraordinarily creamy macaroni and cheese loaded with Gouda and pepato cheese, mushrooms, garlic, leeks, chives and chopped artichoke hearts.
Recipe Ingredients:
1 (16-ounce) package elbow macaroni
3 tablespoons butter
1 cup fresh mushrooms, sliced
1/2 cup leeks (white part only), chopped
1 teaspoon garlic, minced
2 cups (1 pint) heavy cream
2 cups (8 ounces) Wisconsin Gouda Cheese, shredded
1 cup (4 ounces) Wisconsin Pepato Cheese, shredded
1 tablespoon mustard
1/2 teaspoon salt
1/2 teaspoon ground black pepper
1 (14-ounce) can artichoke hearts, drained, chopped
4 tablespoons chopped chives - divided use
1/2 cup bread crumbs
Cooking Directions:
Cook macaroni according to package directions; rinse, drain and reserve.
Preheat oven to 350°F (175°C).
Melt butter in large saucepan until sizzling. Add mushrooms, leeks, and garlic, and sauté over medium heat approximately 5 minutes, or until the mushrooms are tender.
Add cream, stir, and bring to a simmer. Reduce heat to low; add cheeses, stirring constantly, just until melted. Stir in the mustard, salt, pepper, artichokes, and 3 tablespoons of chives. Cook, stirring occasionally, for 3 minutes.
Gently stir in cooked macaroni, mixing well. Spoon into a buttered 3-quart, oven-proof baking dish. Sprinkle with bread crumbs.
Bake for 20 to 25 minutes or until top is browned.
Sprinkle with remaining 1 tablespoon of chives before serving.
Makes 8 servings.
Recipe and photograph provided courtesy of Wisconsin Milk Marketing Board, Inc.