Vegetarian Moussaka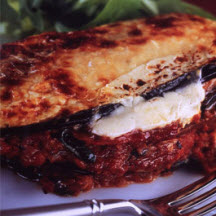 Recipe courtesy of the Flour Advisory Bureau.
Recipe Ingredients:
6 tablespoons vegetable oil
1 medium onion, peeled and chopped
1 clove garlic
2 (14-ounce) cans chopped tomatoes
8 ounces mushrooms, thickly sliced
2 tablespoons tomato puree
4 1/2 ounces fresh wholewheat bread crumbs
3 ounces feta cheese, crumbled
1 cube vegetable bouillon, crumbled
Salt and ground black pepper to taste
Handful fresh basil leaves, torn
3 medium aubergine (eggplant), cut into thin slices
2 medium eggs
1 (16-ounce) container Greek yogurt
Freshly grated nutmeg
Salt and ground black pepper
1/3 cup freshly grated Parmesan cheese
Cooking Directions:
Preheat oven to 350°F (175°C) .
Heat 2 tablespoon oil in a large pan and add onion and garlic, cook till just soft. Add tomatoes, mushrooms, tomato puree, bread crumbs, feta, stock cube and cook for 10 minutes- taste and season as required. Remove from heat, add basil.
Fry eggplant in remaining oil until soft and lightly browned.
Lightly grease a baking dish and line the base with 1/3 of the aubergine slices.
Add a layer of the tomato mixture and repeat, and then finish with a layer of aubergine.
Combine the remaining ingredients except the Parmesan, pour on top of the aubergine and spread out with a spatula. Sprinkle on Parmesan and place in oven for about 45 minutes until top is golden and the sauce is bubbling at the edges.
Serve with a crisp green salad.
Makes 4 servings.
Nutritional Information Per Serving (1/4 of recipe): Calories: 572; Total Fat: 41g; Saturated Fat: 14g; Total Carbs: 31g; Fiber: 8g; Sugar: 16g; Sodium: 3mg.
Recipe and photograph courtesy of the Flour Advisory Bureau.