C.K.'s Grilled Gamberian Pizza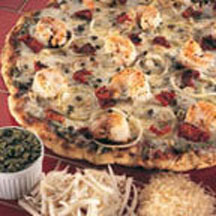 Chef Craig Priebe has grilled pizza for more than a decade and his pizzas have won numerous culinary awards. For seven years, Priebe owned the acclaimed restaurant, C.K's Grilled Pizza. Recipe by Chefs Craig and Karla Priebe.
Recipe Ingredients:
Pizza:
1 (6 ounce) pizza dough ball
2 ounces C.K.'s grill oil
2 ounces grated Wisconsin Parmesan cheese
1/2 pound fresh jumbo shrimp, peeled and deveined
1/4 teaspoon cracked black pepper
4 ounces C.K.'s pizza sauce
4 ounces C.K.'s fresh basil pesto
6 ounces Wisconsin Whole-Milk Mozzarella cheese, shredded
2 ounces Bermuda onion, thinly sliced
1 1/2 ounces sun-dried tomatoes, sliced and soaked in port wine
2 teaspoons capers (optional)
3 large cloves garlic, thinly sliced
2 tablespoons thinly chopped fresh basil
C.K.'s Grill Oil:
24 ounces extra virgin olive oil
4 ounces fresh minced garlic
2 ounces each dried basil, oregano and thyme leaves
C.K.'s Pizza Sauce:
2 1/2 pounds fresh, vine-ripened tomatoes
3/4 cup tomato puree
2/3 cup packed, chopped, fresh basil
2 tablespoons minced fresh garlic
1 tablespoon kosher salt
2 teaspoons cracked black pepper
1 teaspoon granulated sugar
C.K.'s Fresh Basil Pesto:
16 ounces extra virgin olive oil
1/2 pound fresh basil leaves
8 ounces grated Wisconsin Parmesan cheese
6 ounces roasted pecans
2 ounces fresh garlic cloves
1 bunch fresh parsley
1 medium onion
3 anchovy fillets
2 teaspoons salt
1 teaspoon ground black pepper
Cooking Directions:
For Pizza: On well-floured surface, roll out dough by hand to fit over 14-inch pizza screen; carefully place on screen. Lightly brush with grill oil, coating completely. Position crust over medium-hot grill; flip, oil side down, onto grill. As crust bubbles, move around with tongs to prevent charring. Lightly brush with grill oil. When bottom of crust is lightly browned and crispy, turn over onto screen (the bottom is now the top). Remove from grill. Brush generously with grill oil; sprinkle with Parmesan cheese. In skillet, sauté shrimp with pepper in grill oil. Top grilled crust with pizza sauce, pesto, prepared shrimp, Mozzarella, onion, sun-dried tomatoes, capers and garlic. Return to grill; remove screen. Cook about 10 minutes, moving around to prevent charring. Place in broiler 20 to 30 seconds or until top sizzles. Brush edge with grill oil and sprinkle generously with Parmesan cheese. Garnish with basil.
For C.K.'s Grill Oil: Combine ingredients.
For C.K.'s Pizza Sauce: Coarsely chop tomatoes. Add remaining ingredients and blend until smooth. Refrigerate one hour to blend flavors.
For C.K.'s Fresh Basil Pesto: In food processor, combine all ingredients. Blend until smooth.
Makes 4 servings.
Recipe and photograph provided courtesy of Wisconsin Milk Marketing Board, Inc.