Mrs. Nick Salerno's Pizza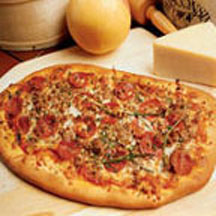 If, or when you're in Chicago, be sure to stop by Salerno's for pizza. Recipe by Chef Morris Salerno.
Recipe Ingredients:
Dough:
2 (0.25-ounce) package active dry yeast or 4 1/2 teaspoons
2 cups warm water (110°F | 40°C)
7 cups high-gluten flour
4 teaspoons salt
3 ounces vegetable shortening
1 tablespoon granulated sugar
Tomato Sauce:
1 ounces olive oil
1 tablespoon chopped fresh garlic
2 ounces onion, chopped
2 ounces tomato paste
2 ounces tomato puree
2 ounces crushed plum tomatoes
6 ounces water
1 teaspoon fresh basil or 1/2 teaspoon dried basil
1 teaspoon fresh oregano or 1/2 teaspoon dried oregano
1 teaspoon granulated sugar
Salt and ground black pepper to taste
Topping:
1 tablespoon olive oil
6 ounces tomato sauce (recipe included)
1 teaspoon finely chopped garlic
1 teaspoon grated Wisconsin Romano
1 1/2 cups shredded Wisconsin Whole Milk Mozzarella cheese
6 ounces mild Italian sausage, casing removed and sautéed until just cooked through
4 ounces sliced pepperoni
2 tablespoons chopped green onion
1 teaspoon oregano
Cooking Directions:
For Dough: In a bowl, dissolve the yeast in the warm water. Do not stir; let the yeast dissolve slowly. In a large mixing bowl, blend together the flour, slat, sugar and shortening. Add yeast/water to bowl with flour and knead with hands until a compact ball is formed. Turn dough out of bowl onto work surface and knead for about 8 minutes until dough is smooth and satiny. Put 2 teaspoons olive oil in large bowl. Place dough in bowl and turn twice to coat with oil. Cover bowl with moist kitchen towel. Let dough rise for about 1 hour until double in bulk. Punch down and let dough rise a second time for 35 to 40 minutes. Punch down dough.
Lightly oil a square pan, 14x14x1/2 inch high, or form the pizza on a cookie sheet. Roll out (or press out by hand) dough to the size of the pan. Dough will be somewhat thick.
For Sauce: In a saucepan over low heat, sauté onions and garlic until onions have softened (do not brown onions). To the pan add tomato pasts, tomato puree, plum tomatoes, water, basil, oregano, sugar, salt and pepper. Stir well and simmer for 30 minutes (do not boil). Sauce is now ready to top pizza. Can be made ahead a day and refrigerated.
To Assemble Pizza: Rub olive oil over the surface of the dough. Spread on the sauce followed by other toppings in this order: garlic, Romano, Mozzarella, Italian sausage, pepperoni, green onion and oregano.
Bake in a preheated 475°F (245°C) oven on lower rack for 20 to 25 minutes until the crust is browned and the cheese is bubbly.
Makes 12 servings.
Recipe and photograph provided courtesy of Wisconsin Milk Marketing Board, Inc.