Texas Border Breakfast Pizza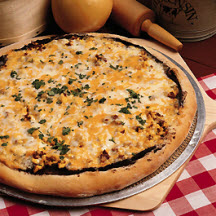 Recipe courtesy of Wisconsin Milk Marketing Board.
Recipe Ingredients:
Dough:
1 (0.25-ounce) package active dry yeast or 2 1/4 teaspoons
1/2 cup warm water (105°F to 115°F)
4 cups unbleached high-gluten flour
1 tablespoon salt
1 teaspoon ground black pepper
1/4 cup olive oil
1/2 cup warm water
Topping for each small pizza (6 pizzas total):
Medium salsa
1 tablespoon refried beans or black beans seasoned with onions, cilantro, cumin, chili powder, salt, pepper
1 to 2 ounces lightly sautéed chorizo
1 scrambled egg
1 to 2 ounces Wisconsin Monterey Jack, shredded
1 to 2 ounces Wisconsin Sharp cheddar, shredded
Cooking Directions:
To Make Dough: Dissolve yeast with 1/2 cup warm water, stir well, set aside. In a mixing bowl, combine flour, salt and ground pepper. Add olive oil to yeast mixture and stir well. Add yeast/oil mixture to flour. Add additional 1/2 cup warm water. Knead dough in bowl until it comes together in a compact ball. Turn dough out of bowl onto work surface and knead for 5 to 6 minutes until dough is smooth and not sticky. Put 1 teaspoon olive oil in mixing bowl. Place dough in the bowl and turn it twice to coat with oil. Cover bowl with plastic wrap and a kitchen towel and set in warm place to rise until double in bulk, about 1 1/2 hours.
Punch down dough, turn it out of bowl onto work surface and knead for 2 minutes. Divide dough into 6 equal pieces (if not using all of the dough, extra can be wrapped and frozen). Roll each piece of dough into a circle 6 to 7-inches in diameter and about 1/8-inch thick.
To Assemble Pizzas: Spread salsa over crust and spread beans over salsa. Layer additional toppings in this order: chorizo, scrambled egg, Monterey Jack and sharp cheddar cheese.
Bake pizzas at 475°F (245°C) for 8 to 10 minutes until crust is brown and cheese starts to get brown and bubbly.
Makes 6 servings.
Note: One large pizza can be made in place of individual pizza. Use a flat 16-inch diameter pizza pan.
Recipe and photograph courtesy of Wisconsin Milk Marketing Board.