Apple Orchard Salad
with Apple Cider Vinaigrette Dressing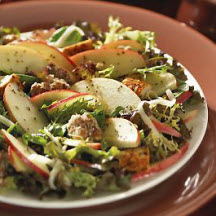 Recipe courtesy of Michigan Apple Committee.
Recipe Ingredients:
For Apple Cider Vinaigrette Dressing:
2 cups fresh apple cider
1/2 teaspoon cracked black pepper
1/4 cup apple cider vinegar
1/4 teaspoon salt
Sprinkle of ground clove to taste
1/4 teaspoon ground cinnamon
1/4 cup granulated sugar
1 1/4 cups vegetable oil
Apple Orchard Salad:
4 cups chicken breast, diced
8 cups spring greens
4 fresh Michigan Gala apples, thin sliced
1 cup shredded Swiss cheese
1 cup glazed walnuts
Lemon juice (optional)
Cooking Directions:
For Vinaigrette: mix together all ingredients (except oil) until sugar is dissolved. Add oil and mix well. The dressing will keep refrigerated for up to one week.
For Salad: Toss salad greens and apple cider vinaigrette together in bowl.
Arrange diced chicken on top of greens. Sprinkle cheese to cover.
Arrange apple slices in circular rows to cover (Tip: apple will oxidize, these should be placed just before serving. You may want to drop apple slices in lemon juice and water to prevent browning.)
Sprinkle glazed walnuts to finish.
Makes 6 servings.
Recipe and photograph courtesy of Michigan Apple Committee.