Apple Pecan Chicken Salad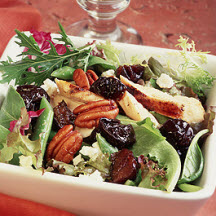 Recipe courtesy of California Dried Plum Board.
Recipe Ingredients:
Spiced Pecans:
1 cup pecan halves
1 tablespoon vegetable oil
1 tablespoon brown sugar, packed
1/4 teaspoon ground red pepper (cayenne)
1/4 teaspoon ground cumin
Apple Walnut Vinaigrette:
1/2 of a peeled, cored and cut-up Granny Smith apple,
1 peeled shallot,
1/4 cup apple cider vinegar
1 teaspoon granulated sugar
2/3 cup vegetable oil
1/3 cup walnut oil
Salt and ground black pepper, as desired
Salad:
8 cups (about 8 ounces) mixed salad greens
1 (6-ounce) package fully-cooked grilled chicken strips
1 1/2 cups (6 ounces) green beans, blanched
1 cup (about 6 ounces) coarsely chopped dried plums
1/2 cup Apple Walnut Vinaigrette (recipe follows) or prepared red wine vinaigrette
1/2 cup (4 ounces) crumbled goat cheese
1 cup spiced pecan halves (recipe follows)
Cooking Directions:
Preheat oven to 300°F (150°C).
For Spiced Pecans: In medium bowl, combine all ingredients; toss to coat. Bake, in even layer on baking sheet, 10 to 12 minutes or until lightly browned, stirring occasionally; set aside.
For Apple Walnut Vinaigrette: In blender, process apple, shallot, apple cider vinegar and sugar until smooth. With motor running, slowly add vegetable oil and walnut oil until creamy. Season with salt and pepper, as desired. Store, covered, in refrigerator for up to 3 days. (Makes 1 1/2 cups.)
For Salad: In large bowl, combine mixed greens, chicken, green beans, dried plums and Spiced Pecans. Drizzle with Apple Walnut Vinaigrette; toss to coat. Sprinkle with goat cheese; serve immediately.
Makes 4 servings.
Tip: To blanch green beans, cook in salted boiling water just until crisp-tender. Drain; immediately drop into ice water to cool. Drain.
Nutritional Information Per Serving (1/4 of recipe): Calories: 655; Total Fat: 48g; Cholesterol: 46mg; Total Carbs: 41g; Fiber: 8g; Protein: 22g; Sodium: 486mg.
Recipe and photograph courtesy of California Dried Plum Board.