Asparagus Bundles with Camembert Dressing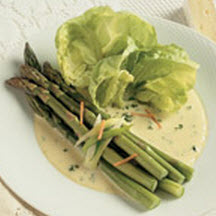 Bundles of crisp-tender asparagus spears, tied together with strips of leek, are marinated in vinaigrette and served in a pool of creamy camembert dressing. Recipe created by chef Paul Short.
Recipe Ingredients:
Camembert Dressing:
2 1/2 ounces Wisconsin Camembert cheese
1 cup olive oil
2 egg yolks
1/2 lemon, juiced
1 teaspoon Worcestershire sauce
1/8 cup distilled vinegar
Cayenne pepper, to taste
1 teaspoon parsley, chopped
1/4 teaspoon salt
1/4 teaspoon cracked black pepper
Asparagus Bundles:
7 stalks fresh asparagus, cut, peeled*
1 fresh leek
1/2 cup basic vinaigrette (see recipe for Basic Vinaigrette with Variations)
2 tablespoons shallots, chopped
Mixed greens, as desired
Cooking Directions:
For Camembert Dressing: In blender combine cheese, olive oil, egg yolks, lemon juice, Worcestershire sauce, vinegar, cayenne pepper, parsley, salt and pepper. Set blender on puree and process until mixture is completely pureed. Makes about 2 cups.
Pour onto serving plate(s). Set asparagus bundles onto emulsified dressing and garnish with mixed greens and serve.
For Asparagus Bundles: Asparagus should be trimmed six inches long and peeled from the bottom up 1 1/2-inches. Quickly blanch the asparagus in an ice bath.
Cut leek in half lengthwise, removing bottom. leave leek in long strips and blanch. Chill quickly and place in an ice bath. Cut strips into 1-inch widths (be sure to leave strips long enough to tie into bundles.) Lay leek strips across cutting board. Lay asparagus on leek strips and tie into bundles.
Marinate bundles in basic vinaigrette with chopped shallots.
Makes ? servings.
*Seven stalks per serving, increase amount of asparagus for desired servings.
Recipe and photograph courtesy of Wisconsin Milk Marketing Board, Inc.