Blueberry, Apricot and Sweet Onion Salad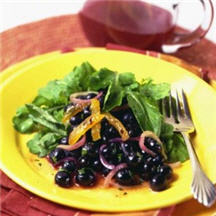 An inspired salad of arugula leaves tossed with a homemade blueberry vinaigrette and topped with slices of salted onion, broiled apricot slices and blueberries. This flavorful salad is easily transformed it into an entrée by topping it with grilled chicken, pork, beef or seafood, and a drizzle of extra blueberry vinaigrette.
Adapted from a recipe by Chef Carole Peck of Good News Café, Woodbury, CT.
Recipe Ingredients:
Blueberry Vinegar:
1 cup fresh or frozen blueberries
1/2 cup granulated sugar
2 cups white wine vinegar
Salad:
1/2 cup (about 2 ounces) sliced sweet red or white onion, rinsed
3/4 teaspoon kosher or sea salt
8 pitted fresh or dried apricot halves
5 tablespoons extra virgin olive oil
2 cups arugula, packed
1 cup fresh or frozen blueberries for garnish
Cooking Directions:
For Blueberry Vinegar: In a blender container, combine blueberries, sugar and vinegar. Blend until puréed; strain. Refrigerate until ready to use. Makes about 1 cup.
For Salad: In a bowl, combine onion and salt; let stand at least 2 hours (can be prepped and refrigerated up to 3 days).
Preheat broiler or grill. If using dried apricots, place in a bowl and cover with boiling water; let stand for 5 minutes; drain. Arrange apricot halves on a broiler pan, skin side up; brush with 1 tablespoon of the olive oil. Broil until skins begin to brown, about 3 minutes. Cool; cut in 1/4-inch slices; set aside.
To Prepare Blueberry Dressing: In a cup, whisk the remaining 4 tablespoons olive oil and 2 tablespoons of the Blueberry Vinegar.
Rinse salted onion; drain.
In a bowl, toss arugula with half of the blueberry dressing; arrange on four serving plates.
In the same bowl, combine blueberries and onion; toss with the remaining dressing; arrange on serving plates, dividing equally. Garnish with apricot strips.
Makes 4 servings.
Recipe and photograph are courtesy of the US Highbush Blueberry Council. Used with permission.