Cherry Berry Salad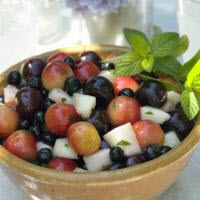 A fresh cherry, blueberry and apple salad tossed with a honey lime dressing.
Recipe Ingredients:
2 cups pitted fresh Northwest Rainier cherries
2 cups pitted fresh Northwest red sweet cherries
1 cup fresh blueberries
1 cup cored diced apples
Honey Lime Dressing (recipe follows)
Cooking Directions:
Combine all ingredients and gently toss with the Honey Lime Dressing. Refrigerate until ready to serve.
Makes 6 servings.
Honey Lime Dressing: Combine 2 tablespoons olive oil, 1 tablespoon each fresh lime juice and honey, 2 teaspoons minced fresh mint, 1/2 teaspoon shredded lime peel and 1/8 teaspoon salt; mix well. Makes about 1/3 cup.
Tips:
Fresh blackberries, raspberries or halved strawberries may be substituted for blueberries.
Fresh pineapple or orange may be added to salad.
Recipe provided courtesy Washington State Fruit Commision.