Cherry Grilled Sweet Pepper Salad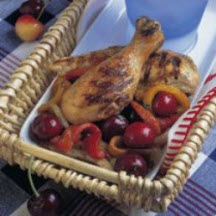 Fresh cherry season is short and sweet, so don't let it pass by without trying this delicious grilled sweet pepper and onion salad with plump sweet cherries, dressed with a balsamic vinaigrette and fresh basil.
Recipe Ingredients:
1/4 cup balsamic vinegar
2 tablespoons olive oil
1 clove garlic, minced
2 tablespoons finely chopped fresh basil leaves
1 teaspoon salt
1/4 teaspoon freshly ground pepper
2 cups pitted Northwest fresh sweet cherries
1 cup thinly sliced sweet onion
2 each yellow and red sweet peppers, halved and seeded
Cooking Directions:
Combine balsamic vinegar, olive oil, garlic, basil, salt and ground pepper; mix well. Reserve about 3 tablespoons dressing for peppers. Toss cherries and onion in remaining dressing.
Brush peppers with dressing and cook on lightly oiled grill over medium heat 10 to 12 minutes. Turn and brush peppers with dressing halfway through grilling. Place in paper or plastic bag and close tightly; let stand 10 to 15 minutes.
Remove peppers from bag and peel off skin. Slice peppers into 1/2 inch strips and mix with cherry mixture.
Makes 4 servings.
Tips:
To take to a picnic or barbecue, prepare dressing and marinate cherries and onion ahead. Drain off 2 to 3 tablespoons dressing to brush onto peppers when ready to grill peppers. Proceed per directions above to prepare salad.
Grill peppers before grilling meat. Proceed per directions above.
Salad may be added to sandwiches in place of relishes or pickles
Peppers may be broiled 4 to 6 inches from heat until skin begins to char. Peel as above.
Nutritional Information Per Serving (1/4 of recipe): 174 Cal., 2.7 g pro., 7.8 g fat (37% Cal. from fat), 26.6 g carb., 0 mg chol., 4.6 g fiber, 541 mg sodium.
Recipe provided courtesy Washington State Fruit Commission.