Chicken and Corn on the Cob Salad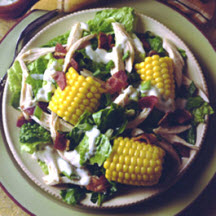 Recipe courtesy of Fresh Supersweet Corn.
Recipe Ingredients:
4 ears fresh Supersweet corn
4 cups romaine lettuce
3 cups cooked chicken cut in strips
4 slices bacon, cooked and crumbled
2 tablespoons thinly sliced green onion
1/2 cup bottled blue cheese dressing
Cooking Directions:
Remove husks from corn; cut each ear into thirds.
In a large pot bring about 2 inches water to a boil; add corn; cover and cook until tender, about 4 minutes; drain; set aside.
On four serving plates arrange lettuce (torn in bite size pieces), chicken and corn, dividing evenly. Top each with bacon, onion and a drizzle of blue cheese dressing.
Makes 4 servings.
Recipe and photograph courtesy of Fresh Supersweet Corn.