Chipotle Peach Chicken Salad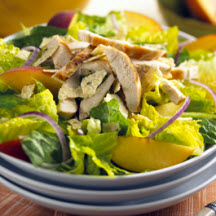 Recipe courtesy of California Tree Fruit Agreement.
Recipe Ingredients:
1 pound boneless, skinless poultry
Salt and ground black pepper
1 chipotle pepper plus 1 1/2 tablespoons adobo sauce from can - divided use
2 ripe yellow peaches or nectarines - divided use
3 tablespoons olive oil
3 tablespoons fresh lime juice
1/2 teaspoon granulated sugar
1/2 teaspoon salt
1 (10-ounce) bag of romaine lettuce
1/2 cup quartered and thinly sliced red onion
1/2 cup coarsely crushed white tortilla chips
Cooking Directions:
Rinse meat and pat dry. Sprinkle with salt and pepper and brush with 1 tablespoon adobo sauce.
Grill over medium coals for about 5 minutes per side or until nicely charred and cooked through. Chill, then cut into small bite-size strips.
Meanwhile, peel and pit one of the peaches or nectarines. Transfer to a blender container with the chipotle pepper, the remaining adobo sauce, olive oil, lime juice, salt and sugar; blend until smooth.
Pit and thinly slice the remaining peach or nectarine and place in a large salad bowl with the romaine, onion and grilled chicken strips. Drizzle with dressing and toss well to coat. Top with tortilla chips.
Makes 6 servings.
Recipe and photograph courtesy of California Tree Fruit Agreement.