Chunky Chicken and Cucumber Salad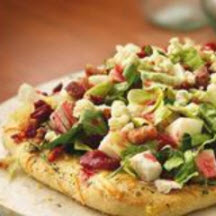 Chunks of chicken, cucumber and red bell pepper enrobed in a piquant yogurt dressing.
Recipe Ingredients:
1 whole chicken*, cooked, skinned, boned, cut into chunks
2 cucumbers, peeled, cubed
1 red bell pepper, chopped
1 tablespoon apple cider vinegar
1/2 teaspoon salt
1/4 teaspoon ground black pepper
1/4 teaspoon seasoned salt
4 ounces plain non-fat yogurt
Cooking Directions:
Prepare chicken.
In medium bowl, mix together cucumber and pepper; sprinkle with vinegar, salt and pepper. Let sit about 5 minutes.
Stir in chicken, seasoned salt and yogurt, tossing gently. Cover and refrigerate until completely chilled.
Serve on dark curly endive, if desired.
Makes 4 servings.
Timesaver Tip: Purchasing a whole roasted chicken at the deli saves you cooking time, plus while it is still warm, it's very easy to debone.
Recipe and photograph provided courtesy of the National Chicken Council. Used with permission.