Edamame Salad with Raspberry Vinaigrette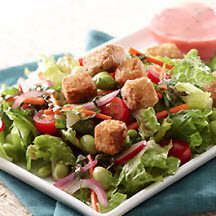 Recipe courtesy of The Soyfoods Council.
Recipe Ingredients:
Tofu Croutons:
12 ounces firm water-packed tofu, drained, cut medium-dice
1/2 cup soy sauce
1 1/2 cups water
2 tablespoons Ranch Dressing powdered seasoning mix
3/4 cup corn starch
Vegetable oil for deep fat frying
Raspberry Vinaigrette:
1/2 cup raspberry vinegar
1/4 cup fresh raspberries
1/4 cup honey
1/2 cup soy oil
1/4 cup extra-virgin olive oil
1/2 cup fresh basil leaves, chiffonade
Salt and ground black pepper, to taste
Salad:
6 cups freshly chopped greens, washed and dried
1/2 cup sliced radish
1 medium julienne-cut red onion
3 julienne-cut carrots
2 cups halved grape tomatoes
2 cups shelled edamame, blanched
Cooking Directions:
For Tofu Croutons: In a medium bowl, add soy sauce, water and Ranch Dressing powder, mix together. Add tofu, marinate 4 hours; remove from marinade, allow to drain. In a medium mixing bowl add corn starch, add tofu, toss lightly. Deep-fry at 350°F (175°C) in oil until golden-brown. Remove from oil, drain.
For Raspberry Vinaigrette: In a blender, add vinegar, raspberries and honey. Purée. Slowly add oils to emulsify. In a small bowl, add dressing. Whisk in basil, salt and black pepper.
For Salad: In a large bowl, add salad ingredients, toss lightly. Divide evenly on salad plates. Sprinkle with tofu crouton and serve with raspberry vinaigrette.
Makes 6 servings.
Recipe and photograph courtesy of The Soyfoods Council.