Farmers Market Mushroom Salad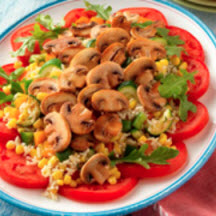 A colorful arranged salad of sautéed mushrooms, brown rice, beefsteak tomatoes, arugula and fresh thyme drizzled with olive oil and lemon juice.
Recipe Ingredients:
Olive oil as needed
1 pound mushrooms, sliced
1 cup zucchini, chopped
2 cups fresh corn kernels
2 cups cooked brown rice
1/4 cup extra virgin olive oil, or as desired
2 tablespoons fresh lemon juice
2 bell peppers of varying colors, seeded and diced
1/2 cup chopped fresh thyme leaves or 1 tablespoon dried
Salt and freshly ground black pepper to taste
2 beefsteak tomatoes, thinly sliced
4 cups (4 ounces) arugula
Cooking Directions:
Heat about 1 to 2 tablespoon oil in a skillet over medium-high heat. Cooking in batches, add the mushrooms in 1 layer and cook, without stirring, until they become red-brown on one side. Turn mushrooms over and cook about until the other side is the same color. Set mushrooms aside.
In same skillet, sauté zucchini until just tender, adding additional oil to skillet as necessary. Add the corn and rice; stir to combine, and cook only until warmed throughout. Drizzle with olive oil and lemon juice and gently stir in bell pepper and fresh or dried thyme; season with salt and pepper to taste.
To Serve: Divide and arrange tomato slices and 1/2 cup arugula on each salad plate; spoon on 1/8 of the rice mixture and top with an 1/8 of the mushrooms.
Salad may be served warm or cold.
Makes 8 servings.
Recipe and photograph courtesy of the Mushroom Council and mushroominfo.com.