Fruit Salad Bowl Turnover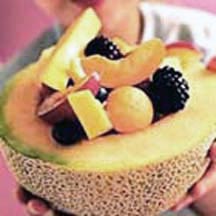 A colorful combination of peaches, berries, and honeydew served in halved cantaloupe makes a perfect side dish to any summer meal.
Recipe Ingredients:
4 cups sliced fresh peaches, nectarines, plums, and/or apricots
1 to 2 cups assorted fresh berries, such as halved strawberries, blackberries, blueberries, and/or raspberries
1 to 2 cups 1-inch chunks honeydew or cantaloupe melon
1 to 2 tablespoons fresh lemon juice
1 to 2 tablespoons granulated sugar (optional)
3 small cantaloupes, halved (optional)
Cooking Directions:
Refrigerate a large glass serving bowl for 20 to 30 minutes.
Add desired fruit to the bowl. Toss gently until fruits are just mixed. Sprinkle with the lemon juice. Sprinkle the sugar, to taste. Toss gently until sugar is dissolved.
To serve, spoon mixed fruits into cantaloupe halves, if desired.
Makes 6 servings.
Nutritional Information Per Serving (1/6 of recipe): 67, total fat: 0g, saturated fat: 0g, cholesterol: 0mg, sodium: 3mg, carbohydrate: 17g, fiber: 3g, protein: 1g, vitamin C: 49%, calcium: 1%, iron: 1%.
Recipe provided by Better Homes and Gardens - BHG.com a member of the Home and Family Network for the best of cooking, gardening, decorating and more. © Copyright 2003 Meredith Corporation. All Rights Reserved.