Grilled Chicken Caribe Salad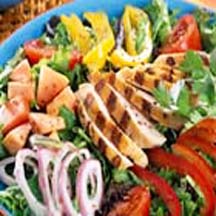 A colorful and very tasty composed chicken salad with tropical flair.
Recipe Ingredients:
4 skinless, boneless chicken breast halves
1 teaspoon coarse salt
1/4 teaspoon ground black pepper
2 tablespoons olive oil
2 packages pre-cut, washed salad greens
1/2 cup Citrus Dressing
Citrus Dressing:
2 tablespoons honey
2 tablespoons fresh lime juice
1/2 teaspoon Dijon mustard
1/2 teaspoon grated gingerroot
1/4 teaspoon finely minced fresh garlic
1 tablespoon soy sauce
1/4 teaspoon round cumin
1/4 teaspoon coarse salt
2 tablespoons chopped fresh cilantro
1/2 teaspoon sesame oil
1/2 cup canola or vegetable oil
Garnishes:
12 tomato wedges
4 tablespoons thinly sliced yellow bell pepper
4 tablespoons thinly sliced red bell pepper
4 tablespoons thinly sliced Bermuda onion
1 cup diced fresh papaya
4 tablespoons cilantro sprigs
1 teaspoon toasted sesame seeds
Cooking Directions:
Preheat gas or charcoal grill.
Season the chicken with salt and pepper. Brush chicken with oil; place on grill and cook, turning, about 3 to 5 minutes on each side, or until cooked throughout.
While chicken grills, toss the lettuce with dressing. Mound onto 4 plates or into 4 bowls. Garnish with remaining ingredients.
Slice chicken into serving size pieces and place on salad.
Makes 4 servings.
For Citrus Dressing: Place all the ingredients except the oil in a blender and puree. With the blender running, slowly add the oil to emulsify. Remove to a container and chill 1 hour before using. Stir before using.
Recipe and photograph provided courtesy of the National Chicken Council. Used with permission.