Idaho Potato and Pesto Chicken Salad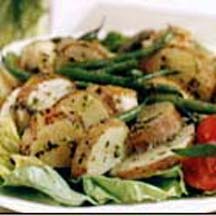 A simple, hearty entrée salad of sliced potato, fresh green beans and cubes of tender chicken dressed in a basil pesto sauce and served over mixed salad greens.
Recipe Ingredients:
2 pounds Idaho Potatoes, well scrubbed (peeled, if desired)
1 pound fresh green beans, washed and trimmed
1 tablespoon olive oil
1 1/2 pounds boneless, skinless chicken breast, cut into 1-inch cubes
3/4 cup prepared basil pesto sauce
3 to 6 cups mixed salad greens such as Boston, bibb or mesclun mix (optional)
Cooking Directions:
Over high heat, in a large, heavy pot with tight-fitting cover, bring half a pot of water to boil.
Meanwhile, cut the potatoes in half lengthwise, then cut them crosswise in 1/2-inch slices. Add potatoes to boiling water, cover and return to boiling; cook 3 minutes.
Add green beans to pot with potatoes and cook another 4 minutes; drain potatoes and beans and set aside. (Vegetables should be firm.)
In the same pot, heat olive oil over high heat and cook the chicken, stirring for 6 to 8 minutes or until meat is completely cooked through.
Remove from heat; stir in pesto sauce, then gently stir in potatoes and green beans, taking care not to break up the vegetables.
Serve salad warm or at room temperature on a bed of salad greens, if desired.
Makes 8 servings.
Recipe and photograph provided courtesy Idaho Potato Commission.