Mustard-Crusted Steak Salad with Blue Cheese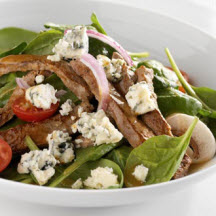 Recipe created on behalf of 3-A-Day™ of Dairy by Chef Federico Elbl of Palermo Viejo, Louisville, Kentucky.
Recipe Ingredients:
3 cups baby spinach, cleaned and dried
1/4 cup crumbled Blue cheese
1 tablespoon Dijon mustard
3 ounces beef tenderloin, cut across the grain into thin slices
1 slice red onion
3 cherry tomatoes
2 mushrooms, sliced
1 tablespoon balsamic vinegar
1 teaspoon olive oil
1 tablespoon pine nuts, toasted (optional)
Cooking Directions:
Arrange spinach on a dinner plate; sprinkle cheese on top. Set aside.
Spread a thin layer of mustard over both sides of beef slices. Heat a small, non-stick skillet over medium-high heat and cook beef slices, about 1 minute per side or until browned.
Place beef slices on top of spinach. Separate onion slice into rings and arrange around salad with tomatoes and mushrooms. Mix vinegar and olive oil together and drizzle over salad. Scatter pine nuts over top, if desired.
Makes: 1 serving. (Recipe can be increased as needed.)
Nutritional Information Per Serving (1 recipe): Calories 340; Total Fat 18 g; Saturated Fat 8 g; Cholesterol 70 mg; Sodium 750 mg; Calcium 20% Daily Value; Protein 27 g; Carbohydrates 19 g; Dietary Fiber 5 g.
Recipe and photograph provided courtesy of 3-A-Day of Dairy.