Smoked Chicken Salad with Penne Pasta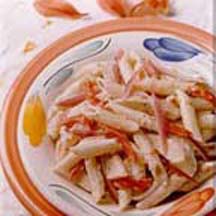 Penne is quill-shaped pasta. If desired, substitute fusilli (a short twisted pasta) or elbow macaroni for this simple and very tasty chicken entrée salad.
Recipe Ingredients:
1 1/2 pounds penne pasta, cooked, drained and cooled*
2 cups smoked white meat chicken or turkey, cut into 1/4-inch strips
1/2 cup thinly sliced red onion
1/2 teaspoon ground black pepper
Dash cayenne
1/4 cup bacon bits (or 2 to 4 strips bacon, crisply cooked and crumbled)
1/3 cup mayonnaise
1/2 teaspoon minced garlic
1/2 teaspoon salt
1/2 teaspoon paprika
1/4 teaspoon dried thyme
1/4 teaspoon ground sage
1/2 teaspoon dried mustard
Cooking Directions:
In a large bowl, toss together chicken, pasta, pepper, onion and bacon bits to combine. Set aside.
In a small bowl, whisk together mayonnaise and remaining ingredients until smooth. Spoon mayonnaise mixture over salad and toss to coat evenly. Serve immediately.
Makes 6 to 8 servings.
Recipe and photograph provided courtesy of The Association For Dressings and Sauces.