Spicy Grapefruit Salad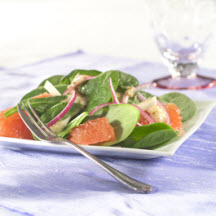 Recipe courtesy of TexaSweet Citrus Marketing, Inc.
Recipe Ingredients:
Salad:
3/4 pound fresh spinach
1/2 medium jicama, peeled and cut into thin strips
1/2 red onion, thinly sliced
3 Texas Rio Star Grapefruit, peeled and sectioned
Salad Dressing:
2 teaspoons toasted poppy seeds
6 cloves garlic - chopped
3 tablespoons grapefruit juice
2 tablespoons white-wine vinegar
2 tablespoons olive oil
1 tablespoon coarse-grain mustard
1/2 teaspoon honey
Cooking Directions:
For Salad: Mix all ingredients in salad bowl and chill. Toss with spicy citrus salad dressing.
For Dressing: In a blender, combine all ingredients, except poppy seeds, until creamy. season with salt and pepper.
Drizzle dressing over salad mixture and toss. Top salad with poppy seeds.
Makes 8 servings.
Nutritional Information Per Serving (1/8 of recipe): Calories: 89; Sodium: 60mg.

Recipe and photograph courtesy of TexaSweet Citrus Marketing, Inc.