Spring Toasted Almond Fruit Salad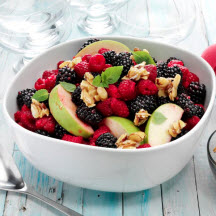 Serve this delicous fruit and nut salad as a refreshing springtime dessert. Recipe is by Food Network celebrity, Chef Alex Guarnaschelli, courtesy of Fisher Nuts.
Recipe Ingredients:
1 1/4 cups granulated sugar - divided use
2 tablespoons lemon juice
2 teaspoons grated lemon zest
1 cup (4 ounces) Fisher Chef's Naturals Sliced Almonds
1 teaspoon dry ginger
Pinch of salt
2 pints blackberries
2 pints raspberries
2 Granny Smith apples, cored, quartered and cut into 1/2-inch slices
1 pint raspberry sorbet
1/4 cup small basil leaves
Cooking Directions:
Make the Syrup: In a small saucepan, bring 1/2 cup water and 1/2 cup of the sugar to a simmer and cook until the sugar dissolves, two to three minutes. Remove from the heat and transfer to a small bowl. Add the lemon juice and zest. Refrigerate.
Caramelize the Nuts: Rinse out the pan used to make the syrup and dry well. Add the remaining 3/4 cup sugar and enough water for it to look like wet sand. Cook over medium heat until the sugar caramelizes and browns, approximately five to eight minutes. Add the almonds and carefully stir to coat the nuts with the caramelized sugar. Season with the dry ginger and a pinch of salt. Transfer to a baking sheet to cool and harden. When hard, break into bite-size pieces.
Assemble the Salad: Toss the blackberries, raspberries and apple slices with the lemon syrup in a large bowl. Refrigerate until ready to serve. The colder the fruit, the better. When ready to serve, top with the almond brittle, a 1/4 cup scoop of raspberry sorbet and the basil leaves. Serve immediately.
Makes 8 servings.
Prep Time: 15 minutes.
Cook Time: 12 minutes.
Recipe and photograph provided by Fisher Nuts via Brandpoint Content; Copyright 1996-2015.