Watermelon Pomegranate Toss Salad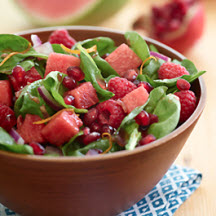 Also known as The Red Eye Special Salad, this salad supplies more than half your day's need for the B vitamin, folate, the entire day's need for vitamin A, and hefty doses of vitamin C, iron, magnesium, calcium, and antioxidants. It also is rich in lutein and zeaxanthin, two compounds shown to protect eyes from vision loss.
Recipe Ingredients:
Dressing:
1 cup pomegranate juice
1 tablespoon balsamic vinegar (pomegranate vinegar is the best)
1 1/2 tablespoons orange zest
1 tablespoon agave syrup
1 small shallot, minced
1/8 teaspoon stone-ground mustard
1/2 cup extra-virgin olive oil
Salt and ground black pepper to taste
Salad:
8 cups baby spinach or 1 (6-ounce) package
3/4 cup diced red onion
2 cups diced watermelon (placed on paper towel to drain excess fluid)
1 clamshell (6 ounces) fresh raspberries
1/2 cup pomegranate seeds
Cooking Directions:
Place juice in a small saucepan over medium-high heat and simmer until reduced to about 3 tablespoon and liquid is a thick syrup. Set aside. When cool, add remaining dressing ingredients, from vinegar to salt and pepper. Whip to blend well. Set aside for flavors to blend.
Place spinach in a large serving bowl. Top with onion, watermelon, raspberries, and pomegranate seeds. Divide onto 4 salad plates and drizzle with dressing.
Makes 4 servings.
Nutritional Information Per Serving (1/4 of recipe): Calories: 376; Total Fat: 26g; Saturated Fat: 4g; Fiber: 6g.
Recipe and photograph courtesy of the National Watermelon Promotion Board.