Curried Peach Chutney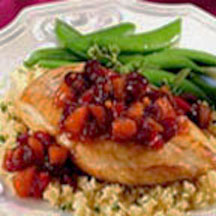 This curried peach, fresh ginger and cranberry chutney makes a wonderful accompaniment for roasted and grilled chicken, turkey, ham and pork.
Recipe Ingredients:
1 cup Ocean Spray® Premium 100% Juice Cranberry and Georgia Peach Blend
1/2 cup chopped onion
1/2 cup chopped red pepper
2 teaspoons minced fresh garlic
1 (6-ounce) package Ocean Spray® Craisins® Original Sweetened Dried Cranberries
2 (15.25-ounce) cans sliced peaches, drained and chopped
1/3 cup brown sugar, firmly packed
1 tablespoon curry powder
1 tablespoon fresh ginger, minced
1/4 teaspoon salt
1/8 teaspoon allspice
Cooking Directions:
Combine juice, onion, red pepper, garlic and sweetened dried cranberries in medium saucepan. Bring to a boil over high heat. Reduce heat to medium. Add remaining ingredients. Cook for 12 to 15 minutes, stirring occasionally.
Makes 4 cups.
Recipe and photograph courtesy of Ocean Spray Cranberries, Inc.