Get-You-Started Pickling Spice Blend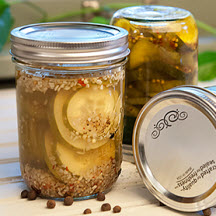 Use this basic recipe as a rough guideline, varying the amounts and spice choices according to taste.
Recipe Ingredients:
1 (3-inch) Frontier Cinnamon Stick, broken up
3 Frontier Bay Leaves, torn into small pieces
2 Frontier Dried Chili Peppers cut into small pieces
2 teaspoons Frontier Yellow Mustard Seeds
2 teaspoons Frontier Dill Seed
1 teaspoon Frontier Black Peppercorns
1 teaspoon Frontier Coriander Seed
1 teaspoon Frontier Whole Allspice
1/2 teaspoon Frontier Fennel Seed
1/2 teaspoon Frontier Whole Cloves
1/2 teaspoon Frontier Grated Nutmeg
1/4 teaspoon Frontier Fenugreek Seed
Cooking Directions:
Combine all ingredients. Make small batches of several blends and use your assortment on pickling day.
Makes 1/4 cup.
Recipe and photograph provided by Frontier Natural Products Co-op via Brandpoint Content; Copyright 1996-2014.