Grape & Red Onion Marmalade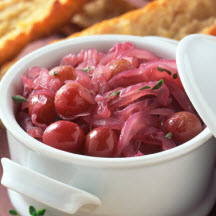 This makes a fabulous addition to roast pork or turkey sandwiches, or serve it as part of an antipasto selection. It is also great as a topper for grilled chicken or steaks.
Recipe Ingredients:
2 tablespoons olive oil
2 each large red onions, thinly sliced
1 teaspoon thyme, fresh minced
2 tablespoons red wine vinegar
2 tablespoons granulated sugar
2 cups Red California seedless grapes, separated and rinsed
1/2 teaspoon salt
Cooking Directions:
Heat olive oil in large non-stick frying pan over medium-high heat. Add onions and cook for 5 minutes, stirring frequently.
Add remaining ingredients and cook for 15 more minutes, stirring frequently.
This is best served warm or at room temperature. Can be stored refrigerated for 1 week.
Makes 2 1/4 cups.
Recipe and photograph provided courtesy of California Table Grape Commission.