Pastry Cream
(Vanilla Custard Filling)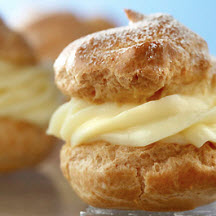 Recipe courtesy of The Incredible Edible Egg™.
Recipe Ingredients:
3 egg yolks
3 cups milk
1/2 cup granulated sugar
1/3 cup cornstarch
1/4 teaspoon salt
3/4 teaspoon vanilla extract
Cooking Directions:
Beat egg yolks well in medium bowl or glass measure; gradually stir in milk until blended.
Mix sugar, cornstarch and salt in large heavy saucepan. Gradually stir in a small amount of milk mixture, making a smooth paste. Gradually stir in remaining milk mixture until blended.
Cook over medium-low heat, stirring constantly, until mixture thickens and comes to a boil, 20 to 25 minutes. Boil and stir 1 minute. Remove from heat immediately.
Cool quickly: Set pan in larger pan of ice water. Stir occasionally and gently for a few minutes to hasten cooling. Stir in vanilla extract. Press piece of plastic wrap onto surface of pastry cream to prevent "skin" from forming.
Refrigerate until thoroughly chilled, at least 1 hour.
Makes 12 servings.
Tips:
Plan ahead: Make pastry cream well in advance, so it can chill thoroughly and thicken up. A hot or warm filling will make pastries soggy.
Cool quickly: The ice water bath is another aid to prevent curdling. It cools the pastry cream and stops the cooking quickly. Have it ready in advance. At this point it is important to stir only occasionally, not constantly. Too much stirring will break down the structure of the thickened pastry cream and result in a thin consistency.
Nutritional Information Per Serving (1/12 of recipe): Calories: 95; Total Fat: 2g; Saturated Fat: 1g; Cholesterol: 57mg; Total Carbs: 15g; Fiber: 0g; Protein: 3g; Sodium: 76mg.
Recipe and photograph courtesy of The Incredible Edible Egg™.