Watermelon Rind Pickles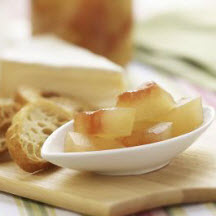 Recipe courtesy of the National Watermelon Promotion Board.
Recipe Ingredients:
8 cups water
2 tablespoons coarse salt
5 cups peeled watermelon rind (leave a thin layer of pink), cut into 1/x2-inch pieces
1 1/2 cups granulated sugar
1 cup cider vinegar
1 teaspoon colored peppercorns
8 whole cloves
1/2 teaspoon pickling spices
2 long slices fresh gingerroot
Cooking Directions:
In large pot, bring water and salt to boil over medium high heat. Add rind pieces and boil until tender, about 5 minutes. Strain. Transfer rinds to a large metal bowl.
In saucepan, combine sugar, cider vinegar, peppercorns, cloves, pickling spice and gingerroot. Bring to a boil over medium high heat, stirring until sugar dissolves. Simmer for 15 minutes until slightly reduced.
Pour over watermelon rinds in bowl. Place plate over top to keep rinds submerged in liquid. Cover and refrigerate for one day.
Transfer to a glass jar and keep sealed in the refrigerator for up to 2 weeks.
Makes about 4 cups (1 liter); 32 servings.
Nutritional Information Per Serving (1/32 of recipe; 2 tablespoons): Calories: 60; Total Fat: 0g; Cholesterol: 0mg; Total Carbs: 16g; Fiber: 0g; Protein: 0g; Sodium: 490mg.
Recipe and photograph courtesy of the National Watermelon Promotion Board.