Caribbean Grilled Shrimp and Pineapple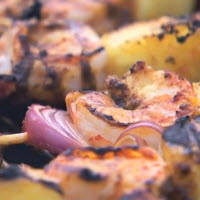 This recipe with grilled shrimp and pineapple has an achiote pepper paste to accompany it.
Recipe Ingredients:
Skewers
1/2 cup lime juice
4 garlic cloves
2 tablespoons achiote seeds or equal parts turmeric and paprika
2 teaspoons allspice berries
2 teaspoons dried oregano
2 teaspoons salt
1 1/2 teaspoons whole black peppercorns
1/2 cup extra virgin olive oil
1 pineapple, peeled, cored, and chopped into 1/2 inch thick slices
2 onions, cut into 1/2 inch wedges
3 sprigs, fresh oregano
1 pound shrimp
1 lemon, cut into wedges
Cooking Directions:
Soak the skewers in cool water for 30 minutes.
Blend lime juice, garlic, achiote seeds, allspice berries, oregano, salt and peppercorns in a KitchenAid Blender until smooth.
Gradually add olive oil to the mixture as the blender is running to create an emulsion.
Assemble the skewers with 3 shrimp, 3 pineapple wedges, and 2 onion pieces and transfer to a shallow pan.
Add three sprigs of fresh oregano to the pan of skewers once they are finished being assembled. Pour the achiote paste over the skewers evenly and marinate for 1-3 hours.
Prepare a charcoal grill to high heat.
Place the skewers on the grill and cook about 3 to 4 minutes a side.
Serve with a squeeze of lemon.
Makes 4 servings.
Recipe provided courtesy of HolidayKitchen.tv. Photograph property of CooksRecipes.com.