Acorn Squash Stuffed with Spicy Apples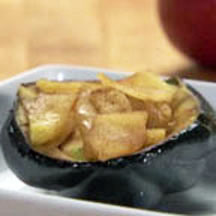 This is an ideal side dish for the holidays, but don't let that stop you from serving it anytime during the fall and winter season.
Recipe Ingredients:
1 acorn squash, halved
1 apple, peeled cored and sliced
2 teaspoons butter
2 teaspoons brown sugar, firmly packed
1/8 teaspoon ground cinnamon
1/8 teaspoon ground nutmeg
1 dash ground cloves
Cooking Directions:
Preheat the oven to 350°F (175°C).
Grease a 1-quart baking dish.
Halve an acorn squash and remove the seeds.
Place the squash, skin side up, in the dish and cover. Bake for 30 minutes.
In a medium bowl combine the apple, butter, brown sugar, ground cinnamon, nutmeg and cloves.
Turn cut sides of the acorn squash up and top with the apple mixture.
Cover and bake 30 minutes longer or until the apples are tender.
Makes 4 to 6 servings.
Recipe provided courtesy of HolidayKitchen.tv. Photograph property of CooksRecipes.com.