Briazz Potato Stackzz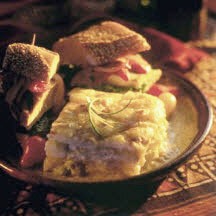 This recipe, adapted in size to fit the home kitchen, was created by Briazz culinary founder Mary Alhadeff, and is part of the Briazz Sandwich Café, Seattle recipe file. It requires a fair amount of preparation time, but can be made a day or two ahead and reheated.
Recipe Ingredients:
3 pounds Idaho® potatoes, washed, peeled
1/2 to 1 pound leeks, cleaned and thinly sliced
2 tablespoons butter

Mustard Sauce:
4 cups medium white sauce (béchamel)
1/4 cup whole grain mustard
1 tablespoon vegetable base
1 tablespoon salt

3 cups shredded white cheddar cheese
Cooking Directions:
Preheat oven to 350°F (175°C).
Butter a 13x9x2-inch baking pan.
Slice potatoes 1/8 to 1/4-inch thick. Place in large pot, cover with cold water, bring to boil and simmer until barely tender, 7 to 10 minutes. Alternately, blanch by steaming until barely tender. Air-cool potatoes spread out on sheet pan, 10 to 15 minutes.
Meanwhile, cook leeks in butter until softened, about 7 minutes.
Prepare mustard sauce.
To assemble gratin, layer 1/4 of potatoes, 1/3 of sauce, 1/3 of leeks, 1/3 of cheese in pan. Repeat this process to create 3 layers. Cover tightly with foil.
Bake for 35 to 45 minutes or until potatoes are tender. Remove cover; bake 15 minutes until golden brown.
Makes 12 servings.
Recipe and photograph provided courtesy of Idaho Potato Commission.