Buckeye Twice-Baked Idaho® Potato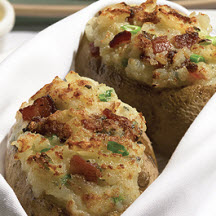 Twice-baked potatoes stuffed with a creamy baked potato mixture of blue cheese, Monterey Jack cheese, crispy bits of bacon and sliced green onions.
Recipe Ingredients:
4 Idaho® potatoes (10 to 11 ounces each)
1/2 cup crumbled blue cheese
2/3 cup Monterey Jack cheese, shredded
1/3 cup heavy cream
1/4 cup sour cream
3 tablespoons cooked bacon, crumbled (3-4 slices)
2 tablespoons butter, softened
2 tablespoons green onions, thinly sliced
1/8 teaspoon ground nutmeg
1/4 to 1/2 teaspoon salt
Cooking Directions:
Heat conventional oven to 425°F (220°C).
Pierce tops of potatoes with fork several times. (Do not wrap in aluminum foil.)
Bake potatoes on oven rack 60 to 70 minutes or until tender when pierced. (If using a convection oven, bake at 375°F (190°C) for 55 minutes.)
Remove from oven; cool 10 to 15 minutes.
Meanwhile, in large bowl, combine all remaining ingredients.
Cut a thin slice off top of each potato. Using a teaspoon, scoop out center of each, leaving the shell. Add potato centers to cheese mixture.
Using fork, break up potatoes and mix until well blended. Spoon mixture into potato shells.
Transfer to baking sheet. Position potatoes under broiler so that tops are 5-inches from heat source. Broil 4 to 6 minutes or until tops are golden brown. Turn off heat; close oven door and leave potatoes in oven for additional 7 to 10 minutes.
Makes 4 servings.
Nutritional Information Per Serving (1/4 of recipe): Calories: 603; Total Fat: 28g; Cholesterol: 78mg; Total Carbs: 73g; Protein: 17g; Sodium: 632mg.
Recipe and photograph courtesy of the Idaho Potato Commission.