California Raisin Couscous with Vegetables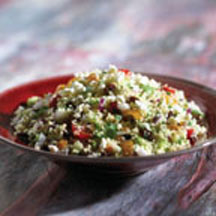 This exotic couscous side dish incorporates plump raisins, fennel, garbanzo beans and chopped fresh cilantro for a subtly sweet-and-savory combination.
Recipe Ingredients:
1 (10-ounce) box plain couscous
1/4 cup extra virgin olive oil - divided use
1 pint red pear or cherry tomatoes, cut in half
2 heads fennel, bulb only, small dice
1 English or hothouse cucumber, peeled, seeded and small dice
1/2 red onion, peeled, small dice
1 cup California golden raisins
2 bunches Italian flat leaf parsley, picked and chopped
1/2 bunch cilantro, picked and chopped
Juice of 4 lemons
Salt and pepper
Cooking Directions:
Place one box of couscous in a large bowl or shallow rectangle pan.
Bring 2 cups water to a boil.
Drizzle 2 tablespoons of olive oil over couscous along with salt and pepper. Then pour boiling water over couscous to cover. Mix with fork; cover with plastic wrap and set aside for five minutes. Remove plastic and fluff couscous with a fork to avoid lumps and let cool.
Once cool, add remainder of ingredients and toss well. Reheat to serve.
Makes 8 side dish servings.
Note: Make sure all ingredients are ready before making couscous. For variety, sprinkle crumbled feta cheese on top just before serving.
Recipe and photograph provided courtesy of www.LoveYourRaisins.com; through ARA Content.