Caribbean Stuffed Plantains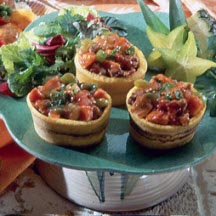 Treat your family to the tropical taste of the Caribbean without breaking the budget. This unique entrée is not only delicious, it has presentation as well! Sautéed plantains are formed into rings and the centers are filled with a flavorful picadillo-style mixture of ground beef, sweet potatoes, tomatoes, onion, garlic, celery and seasonings.
Recipe Ingredients:
1 pound ground beef (preferably ground round)
3 tablespoons olive oil - divided use
1 1/2 cups cubed sweet potatoes
1 medium onion, chopped
1 cup chopped pepper
1/2 cup sliced celery
1 large clove garlic, minced
1 (16-ounce) can chopped tomatoes
1 tablespoon fresh or 1 teaspoon dried oregano
1/2 teaspoon red pepper flakes (or to taste)
1/2 teaspoon seasoned salt
2 tablespoons chopped flat leaf parsley
2 plantains
Sprigs of fresh oregano or parsley for garnish (optional)
Pineapple wedges for accompaniment (optional)
Sliced star fruit for ccompaniment (optional)
Cooking Directions:
In large skillet, brown beef in 1 tablespoon olive oil. Stir to break into bits. Add sweet potatoes, onion, pepper, celery and garlic. Sauté until vegetables are tender. Add tomatoes, oregano, red pepper, salt and parsley. Simmer 10 minutes to blend flavors.
Meanwhile, slice plantains lengthwise into 8 strips.
In skillet, heat remaining 2 tablespoons oil and sauté plantain slices in hot oil until golden. Remove from heat and shape into ring. Fasten ends with toothpick.
To Serve: Place plantain rings on plates and fill the centers with the ground beef and sweet potato filling.
If desired, garnish with sprigs of fresh oregano or parsley and accompany with pineapple wedges and sliced star fruit.
Makes 4 servings.
Recipe and photograph courtesy of North Carolina Sweetpotato Commission.