Corn and Potato Mini Pancakes with Salsa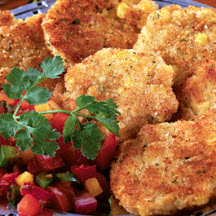 Got leftover mashed potatoes? Put them to tasty use by making these southwestern-style potato pancakes studded with kernels of corn and served with a side of fresh tomato, sweet pepper and jalapeño salsa.
Recipe Ingredients:
Corn and Potato Mini Pancakes:
2 cups mashed Idaho potatoes (prepared according to package directions using half of a 22 ounce bag frozen Idaho mashed potatoes)
2 cups frozen corn kernels (thawed) or cooked corn cut off the ear
1 large egg, slightly beaten
1 cup seasoned bread crumbs
1/2 cup canola oil (for frying)
Salsa:
1/2 cup finely chopped yellow bell pepper
1/2 cup finely chopped green bell pepper
4 plum tomatoes, seeded and chopped
1 tablespoon minced jalapeño pepper
1/2 cup chopped red onion
Juice of 1/2 fresh lime
Cooking Directions:
For Corn and Potato Mini Pancakes: In a medium mixing bowl, combine potatoes, corn and egg; mix well with a spoon.
Place bread crumbs in a shallow bowl. Using clean hands, form mixture into 1 1/2inch diameter patties; dip each pattie in bread crumbs, coating both sides.
Over medium heat, in a large non-stick skillet, heat 2 tablespoons of the canola oil until hot. Fry the patties, a few at a time, for 2 minutes, or until golden brown on the bottom; flip and cook another 2 minutes on the second side. (If flatter, more crispy cakes are desired, flatten cakes while cooking with a metal spatula).
Transfer finished cakes to a baking sheet and keep in a warm oven (200°F / 95°C) until all cakes are cooked. Transfer cakes to a serving platter and serve with salsa, if desired.
For Salsa: Combine all ingredients in bowl and allow flavors to marry for about 30 minutes before using.
Makes 30 corn cakes.
Recipe and photograph provided courtesy of Idaho Potato Commission.