Crispy Pasta Cakes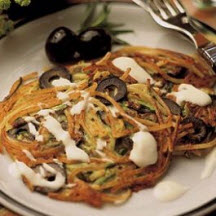 Recipe courtesy of California Ripe Olives.
Recipe Ingredients:
2 cups (1/2 pound) cooked spaghetti, cooled and chopped into 2-inch pieces
2 cups (1/2 pound) shredded zucchini
3/4 cup sliced olives
3/4 cup (3-ounce) shredded Gruyère cheese
1/4 cup sliced green onions
1 large egg, beaten
1 tablespoon all-purpose flour
1 teaspoon chopped tarragon
1/4 teaspoon kosher salt
Cayenne pepper to taste
1 tablespoon olive oil
1 1/2 tablespoons crème fraîche (sour cream may be substituted)
Cooking Directions:
In a large mixing bowl, combine spaghetti, zucchini, olives, cheese, onion, egg and flour. Season with tarragon, salt and cayenne pepper and set aside.
Heat oil in a large non-stick pan over medium-high heat. Scoop approximately 3/4 cup of pasta mixture into pan and press down lightly with tongs or a spatula to form a flat, even circle. Cook for 2 to 4 minutes on each side until crisp and golden.
Remove from pan with slotted spatula and repeat with remaining pasta.
Drizzle cakes with crème fraîche just before serving.
Makes 4 servings.
Recipe and photograph courtesy of California Ripe Olives.