Deep Dish Organic-Potato Bake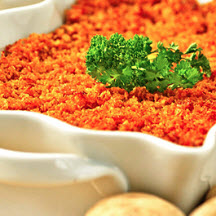 Recipe courtesy of Dara Bunjon, www.dara-doesit.com.
Recipe Ingredients:
3 pounds organic Idaho® potatoes, peeled and shredded*
2 tablespoons white wine vinegar
1 medium onion, minced
1 stick (1/2 cup) margarine, melted (reserve 2 tablespoons)
1/2 cup condensed cream of celery soup, undiluted
8 ounces sour cream
8 ounces white (or regular) cheddar cheese, shredded
1/4 teaspoon salt (optional)
1 teaspoon white pepper
1 cup plain cornflakes
Cooking Directions:
Fill large bowl with ice, water and the two tablespoons of white-wine vinegar (which will keep potatoes from browning). Place shredded potatoes in this mixture as you peel and shred them.
Drain shredded potatoes in colander for 10 minutes; gently squeeze excess moisture from potatoes and transfer to a dry bowl.
Add onion, margarine, condensed soup, sour cream, cheese, salt (if needed) and pepper to the potatoes; blend ingredients by stirring.
Spray a 3-quart baking dish lightly with non-stick cooking spray. Pour mixture into the baking dish and set aside.
Place cornflakes into a sandwich bag and crush with a rolling pin or substitute. Once the cornflakes are crushed, add the remaining melted margarine and shake bag until crushed flakes are evenly coated. Spread cornflake topping evenly over the potato mixture.
Preheat oven to 350°F (175°C) and bake casserole for 75 minutes. Let it rest for 10 minutes after baking. Serve very warm.
Makes 12 servings.
*A food processor was used to shred potatoes for this recipe.
Recipe and photograph courtesy of the Idaho Potato Commission.