Grand Cru Grilled Potatoes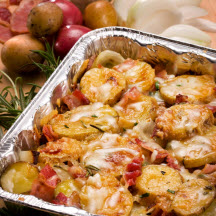 Grilled potatoes are jazzed up with bacon and a touch of international flavor with artisan Grand Cru cheese.
Recipe Ingredients:
2 teaspoons unsalted butter
1 1/2 pounds baby gold or red potatoes, thick sliced
2 small Vidalia onions, chopped
3 green onions, chopped
1 teaspoon chives, diced
2 cloves garlic, chopped
6 slices bacon, fully cooked, chopped
1/4 teaspoon black pepper
5 ounces Roth Grand Cru Original, shredded - divided use
1 sprig rosemary, stem removed
Cooking Directions:
Preheat grill to medium.
Cut butter into small pieces and place in bottom of 8-by-8-inch disposable foil pan.
Layer potatoes, Vidalia onions, green onions, chives and garlic in pan.
Top potatoes with bacon, then cover with half of Grand Cru Original.
Season with black pepper and rosemary; cover pan with aluminum foil.
Place potatoes onto grill and cook for approximately 45 minutes or until potatoes are tender.
Remove foil, top with remaining Grand Cru and continue to grill until cheese is fully melted and browned.
Makes 6 servings.
Tip: To prepare in the oven: preheat oven to 400°F (205°C) and bake for at least 1 1/4 hours.
Recipe and photograph provided by rothcheese.com via Brandpoint Content; Copyright 1996-2014.