Grilled Potato Planks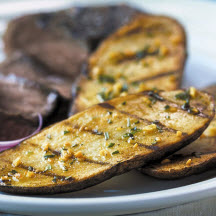 Potato slices are brushed with a garlic and fresh rosemary-infused olive oil and grilled.
Recipe Ingredients:
3 tablespoons olive oil
1 clove garlic, minced
2 teaspoons finely chopped fresh rosemary leaves
1/2 teaspoon salt
1 1/2 pounds (about 3 large) unpeeled baking potatoes, cut into 1/2 inch-thick slices
Cooking Directions:
Preheat grill.
Combine oil, garlic, rosemary, and salt in a dish. Brush both sides of potato slices with oil mixture.
Grill potatoes for 8 minutes or until soft. Turn and continue grilling 10 minutes longer or until cooked through.
Remove from grill and serve.
Makes 4 servings.
Nutritional Information Per Serving (1/4 of recipe): 280 calories, 11 g fat, 1.5 g saturated fat, 8 g monounsaturated fat, 1.5 g polyunsaturated fat, 300 mg sodium, 43 g carbohydrate, 0 g added sugar, 4 g fiber, 4 g protein, 35 IU vitamin A, 20 mg vitamin C, 0.1 mg vitamin E, 35 mg calcium, 2.5 mg iron, 1,200 mg potassium, 65 mg magnesium, 0.7 mg vitamin B6, 0.5 mg manganese, 3 mg vitamin B3 (niacin), 160 mg phosphorus, 65 mcg folate, and 0.3 mg copper.
Recipe and photograph provided courtesy of United States Potato Board.