Olive Oil and Herb Mashed Potatoes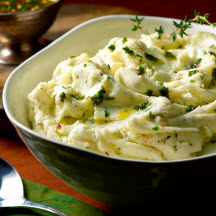 Olive oil, which is naturally cholesterol-free, is a healthy alternative to butter in this a classic comfort dish of mashed potatoes that not only tastes delectable – it also looks pretty in the serving bowl as well.
Recipe Ingredients:
Mashed Potatoes:
10 (8-ounce) potatoes, peeled and cut in half (about 5 pounds)
3/8 teaspoon white pepper
1 1/2 tablespoons kosher salt
1/2 cup Tuscan Herb Paste (recipe follows)
1/2 cup Carapelli Premium 100% Italian Extra Virgin Olive Oil
1 cup heavy cream, warmed
Tuscan Herb Paste:
1 tablespoon fresh basil
2 tablespoons fresh rosemary
1/2 cup packed fresh Italian parsley
1 tablespoon fresh thyme
2 tablespoons fresh sage
1/2 teaspoon crushed red pepper
3/4 cup Carapelli Extra Light in Taste Olive Oil
1 cup Carapelli Premium 100% Italian Extra Virgin Olive Oil
Cooking Directions:
For Mashed Potatoes: Boil potatoes in salted water. When cooked tender, mash potatoes.
Mix salt and pepper with Tuscan Herb Paste, olive oil and warm heavy cream. Fold into potatoes.
For Tuscan Herb Paste: Blend herbs and crushed red pepper with light olive oil using a blender or food processor, then stir in extra virgin olive oil.
Makes 8 to 10 servings.
Recipe and photograph provided by carapelliusa.com via Brandpoint Content; Copyright 1996-2014.