Ripped Idaho® Potatoes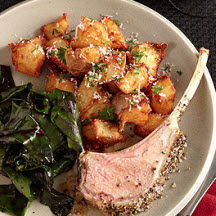 Recipe by Chef John Schenk of Strip House in Las Vegas, Nevada.
Recipe Ingredients:
2 large Idaho® potatoes
4 tablespoons olive oil
5 cups canola oil
1 1/2 tablespoons butter, melted
1/4 cup curly parsley, chopped
2 tablespoons Grana Padano freshly grated Parmesan cheese
Cooking Directions:
Preheat oven to 400°F (205°C) and position a rack in top third of the oven.
Wash potatoes with a stiff brush and cold running water. Dry the potatoes. Coat the potatoes using one tablespoon of olive oil and sprinkle with salt. Wrap potato in tin foil and place in the oven. Allow potato to bake for approximately 50 minutes, until potato is completely cooked through (timing depends on size of the potato). Remove foil and cool potatoes overnight (great use for a leftover baked potato!)
When you are ready to prepare the potatoes, heat canola oil in a sauce pot to 375°F (190°C).
Leaving the skin on the potato, rip the potatoes into medium to small bits.
Deep fry potato shreds in canola oil for 2 minutes. Remove from oil and refrigerate until serving.
When ready to serve, re-fry the potatoes in the 375°F (190°C) oil for 1 minute until crisp. Remove from fryer and place in a large bowl. Toss the potatoes with remaining olive oil and season with salt and pepper. Add the parsley, reserving one teaspoon for garnish, and half of the grated cheese, tossing lightly.
Place potatoes in a serving dish and sprinkle the top with remaining parsley and cheese.
Makes 6 servings.
Recipe and photograph courtesy of the Idaho Potato Commission.