Roquefort Scalloped Idaho® Potatoes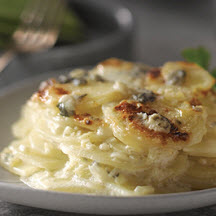 Recipe by David Woodward, Executive Chef of Hilton New Orleans Riverside.
Recipe Ingredients:
1 1/2 cups heavy whipping cream
1 1/2 cups canned chicken broth
2/3 cup minced shallots
2 teaspoons minced garlic
3/4 teaspoon salt
10 to 11 ounces Roquefort or good blue cheese, crumbled
4 pounds Idaho® Russet Potatoes, peeled, thinly sliced
Cooking Directions:
Mix first 5 ingredients in large pot. Bring to simmer over medium-high heat.
Add half of the cheese; whisk until smooth. Chill remaining cheese.
Mix the sliced potatoes thoroughly with the cream mixture. Spread evenly in a prepared cooking dish. Cover with foil. Bake 15 minutes.
Uncover and continue baking until potatoes are very tender and liquid bubbles thickly, about 50 minutes.
Dot potatoes with remaining cheese. Bake until the cheese softens, about 5 minutes.
Let cool 15 minutes before serving.
Makes 12 servings.
Recipe and photograph courtesy of the Idaho Potato Commission.