Twice Baked Yams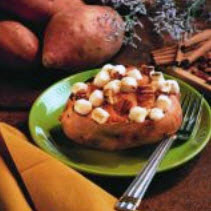 These delicious stuffed yams are perfect for the holidays—and any day you want to add a special side dish to the menu.
Recipe Ingredients:
3 pounds small sweet potatoes, unpeeled
1/2 cup golden raisins
1 tablespoon packed light brown sugar
1/4 teaspoon ground cinnamon
1 (8 ounce) can crushed pineapple, drained
1 teaspoon vanilla extract
2 tablespoons chopped pecans
1 cup miniature marshmallows
Cooking Directions:
Preheat oven to 400°F (205°C).
Place potatoes on a baking sheet and cook for 1 hour or until tender. Cool for 15 minutes.
Cut a thin slice off the top of each potato. Carefully scoop pulp into a bowl, leaving shells intact.
Mash pulp; stir in raisins, brown sugar, cinnamon, pineapple and vanilla.
Spoon mixture into the shells and sprinkle with pecans and marshmallows.
Bake in a preheated oven at 350°F (175°C) for 15 minutes or until thoroughly heated.
Makes 8 servings.
Created by Louisiana Sweet Potato Commission spokesperson, Holly Clegg.
Recipe and photograph provided courtesy of Louisiana Sweet Potato Commission.