Cheese and Chile Rice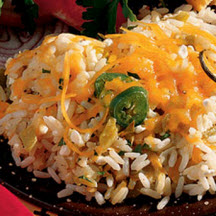 A creamy, Southwestern-style cheddar cheese and green chile rice casserole. Serve as a side dish or meatless main dish.
Recipe Ingredients:
1 cup chopped onion
1/4 cup butter
4 cups cooked rice*
2 cups sour cream
1 cup cottage cheese
1 large bay leaf, crumbled
1/2 teaspoon salt
1/2 teaspoon ground black pepper
3 (4-ounce) cans diced green chiles
2 cups (8 ounces) shredded Wisconsin Cheddar cheese
Fresh flat-leaf parsley, chopped
Cooking Directions:
Lightly grease a 12x8-inch baking dish. In a 3 quart saucepan, sauté onion in butter until golden. Remove from heat. Stir in hot rice, sour cream, cottage cheese, bay leaf, salt and pepper. Mix well.
Layer half of rice mixture in prepared dish. Sprinkle all of chiles and half of cheese over rice. Top with remaining rice and cheese. Sprinkle top with parsley.
Bake in a preheated oven at 375°F (190°C) for 25 to 30 minutes. Serve hot.
Makes 6 to 8 servings.
*According to the USA Rice Federation, 1 cup uncooked long grain rice cooked in 2 cups liquid for 18 to 20 minutes will yield approximately 3 to 4 cups cooked rice.
Recipe and photograph provided courtesy of Wisconsin Milk Marketing Board, Inc.